Tapan Microns has always included R & D capabilities in our operations. Each application is analyzed based on raw material characteristics and product quality requirements before the optimum technology is selected.
We have a competent team of R & D personal who can understand the customer's needs, thereby enabling us to not only recommend the right product to our customers, but to also produce tailor made products, if required. We are always keen to interact with our customers to produce better products for them progressively.
Our laboratories are well equipped for various aspects of powder characterization. Powder properties are measured regularly depending upon the parameters required by our customers like the oil absorption,water absorption,bulk density,the flow point, plasticity, CaCo3, SiO2 contents, specific gravity, etc.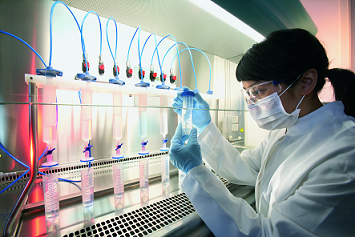 Backed by our state-of-the-art infrastructure facility, we are able to deliver consignments within pre defined time period irrespective of scale. The whole infrastructure comprise of modern machinery such as:

- Roller mills
- Grinding mills
- Air Classifiers
- Jaw Crusher
- Conveyor belts
- 60 tones silo
- Coating machine for coating of calcite and talc
- Washing machine for removing impuritiest.
Further, we have our own totally mechanized mining & factories that are manned by our proficient workforce including qualified engineers and experienced geologists. The team ensures that the ore which leaves the mines is of a superior quality.